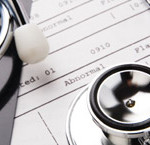 The high demands in Healthcare have industry leaders searching for greater levels of productivity, efficiency, and reliability of staff and critical equipment. Hospitals and patient care centers are adopting new RFID technologies with healthcare asset tracking solutions to track the location and status of patients, staff, and critical medical equipment in real-time. In return, RFID enables health care organizations to experience instantaneous benefits with visibility and control which include:
Significantly decreasing staff downtime.
Optimizing equipment/asset tracking and utilization of assets.
Improving patient handling, monitoring, and safety.

Reducing medical errors with real-time inventory status updates.
Improving medication management.
Automating billing and record keeping
Provide patient care without boundaries
Extend mobility to the point of care and beyond with solutions that combine Motorola's world-class mobility products and critical healthcare applications from partners. Our healthcare solutions allow you to securely share real-time information anywhere, inside or outside the facility, for increased patient safety and more attentive care.
In an aim to streamline supply chain processes and reduce overall healthcare costs, our healthcare solutions make it possible to automate management systems, track patient progress, and improve responsiveness of healthcare providers. Healthcare solutions offered by Motorola also enhance clinical performance and improve the delivery of care.
Quick links to our other Critical Asset Tracking solutions:
More information