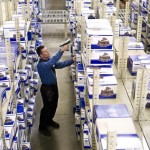 Critical Asset Tracking
We strives to deliver the best branch specific critical asset tracking RFID Solutions, in order to provide our customers with immediate benefits and rapid Return on Investment. We work with sophisticated LF, HF, and UHF technologies to generate novel and unique solutions to solve our clients' challenges in a wide range of applications. Read more about our branch specific RFID Critical Asset Tracking for Warehouses, Healthcare, Public Services, and Retail with over a decade of experience in implementing and delivering our software.
Warehouse Asset Tracking
Implement the technology you need to streamline and tracking your critical asset warehouse. From hands-free solutions to RFID, Voice and Cold storage!
Healthcare Asset Tracking
In an aim to streamline supply chain processes and reduce overall healthcare costs, our healthcare critical asset tracking solution
Automates management systems,
Track patient progress, and
Improve responsiveness of healthcare providers.
Public Services
Use our Critical Asset Tracking solution in public services. Documents and books can be called We have a decade of experience in implementing successful RFID Document Tracking solutions. The solution suits:
Universities,
Libraries,
Government Offices,
Lawyer Offices
Financial, Insurance, and Mortgage companies,
Medical offices and Pharmaceutical companies
Retail Asset Tracking
Critical Asset Tracking uses the newest RFID technologies in retail applications and allow retailers to:
improve on-shelf availability,
increase sales,
cut labor costs, and
improve customer service
Quick links to our other Critical Asset Tracking solutions:
More information